1. What is Periodic Maintenance of a vehicle?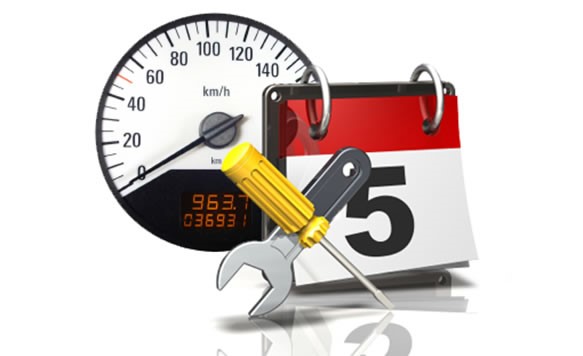 Periodic Maintenance is described as performing service / replacement and inspection / testing of a vehicle at specified intervals according to the maintenance schedule in owner's manual. The service interval for scheduled maintenance is determined by odometer reading or time interval, whichever comes first, shown in the schedule.
2. Why is Periodic Maintenance necessary for your vehicle?
Proper maintenance will help ensure maximum performance, greater reliability and longer life of your Toyota vehicle. To maintain your Toyota vehicle in top driving condition, it is important to have it inspected and serviced periodically in accordance with the maintenance services listed in your Owner's Manual.
3. Recommended schedule for periodic maintenance of your vehicle.
4. Where to go for Periodic Maintenance?
You can have the periodic maintenance of your vehicle performed at Toyota Multan Motors.
Schedule of Periodic Maintenance

5000 KM

10000 KM

20000 KM

40000 KM

Sr No.

Item

SUPER LIGHT

LIGHT

MEDIUM

HEAVY

1

Valve Clearance

X

I

X

X

2

Alternator Belt

I

I

I

I

3

Engine Oil

R

R

R

R

4

Engine Oil Filter

R

R

R

R

5

Air Conditioning Filter

I

I

I

I

6

Long Life Coolant

I

I

I

R

7

Refrigerant Amount for Air Conditioning

I

I

I

I

8

Engine Compartment

I

I

I

I

9

Under Carriage Inspection

I

I

I

I

10

Spark Plugs

I

R

I

I/R

11

Battery Electrolyte Level

I

I

I

I

12

Drive Shaft Boots

I

I

I

I

13

Interior Check

I

I

I

I

14

Door Hinges (Front & Rear)

I

I

I

I

15

Air Filter

I

I/R

I

I

16

Brake Service, Four Wheel

X

I

I

I

17

Wheel Balancing

FR/RR

FR/RR

FR/RR

FR/RR

18

Exhaust Pipe, Mounting

I

I

I

I

19

Fuel Lines, Fuel Tank Inspection

X

I

X

I

20

Fuel Filter + Charcoal Canister

X

X

I

R

21

Brake Pads

I

I

I/R

I

22

Tyres Condition + Inflation Pressure

I

I

I

I

23

Lights, Horn & Wiper

I

I

I

I

24

Check Abnormal Noises

I

I

I

I

25

Shock Absorber Support

I

I

I

I

26

Suspension Front & Rear

I

I

I

I

27

Steering Wheel, Linkage Gear Box

I

I

I

I

28

Tubes, Hose & Union Inspection

I

I

I

I

29

Wheel Bearing

I

I

I

I

30

Engine Tune-up

I

I

I

I

31

Brake Lines, Fluid

I

I/R

I

R

32

Manual Transmission Fluid

I

I/R

I

R

33

Brake Pedal & Parking Brake

I

I

I

I

34

Automatic Transmission Fluid

I

I

I/R

RI

35

IT Checkup

I

I

I

I

36

Wheel Alignment

I

I

I

I

37

Throttle Body

X

I

I

I

38

General Checkup (Overhaul)

I

I

I

I